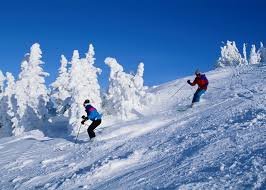 Looking for the top timeshare resorts for skiing around the world is a challenge. Skiing is truly an adventure to many people that they may even decide to visit all of these resorts.
Here are the top timeshare resorts for skiing around the world:
St. Anton- Austria
St. Anton is one of top resorts to visit around the world because it is matched by the organizers of "World Alpine Skiing Championship". The resort also have honor in hosting the said event, back in 2001. Ski enthusiasts are attracted in visiting the resort; its perfect feel and dominating ambience are even more attractive.
Courchevel-France
Its stunning and perfect reputation makes it one of the top resorts around the world. It also offers the most excellent ski holidays at expensive price. Those who have intermediate ability can finally ski in the challenging choices of blue and red runs.
Aspen and Snowmass – United States
With four mountains in the region, Aspen and Snowmass has five thousand acres of terrain and three-hundred forty-one trails that allow novices and experts in finding an exciting selection of routes. The most challenging runs are in the highlands and Aspen Mountain with chutes, gullies and tree runs.
Verbier-Switzerland
One of the top ski resorts in Europe; Verbier managed in attracting skiers from around the world each year. There is a wide variety of entertainment available that include swimming pool, skating rink and sports center.
La Rosiere- France
This ski-resort mainly offers a wide array of slopes that are perfect for skiers. The distance between Monte Rosa and Matterhorn makes way for perfect memories and excellent photos.
Les Arcs- France
Breathtaking views of Italian Alps, Swiss and French, it has its ski slopes and snow record that are perfect for those who have the best abilities. It is not a wonder that it has truly established its reputation among ski enthusiasts.
Val d'Isere-France
This is typically visited by many ski enthusiasts; this is a perfect ski spot for every dedicated enthusiasts, families and ladies. The skiing is mainly above two-thousand three hundred meters. It also has its excellent and surprising snow record.
After skiing is already done, there are still many ways to best entertain you. There is also a live music and wide choices of clubs, pubs and bars in town. Shopping options and body treatments are seen around for the lovely and perfect stay.
Klosters-Switzerland
Arguably the aesthetically pleasing and most charming ski resort in Switzerland, this is mainly situated in Prattigau Valley. Its history and charm make it an ideal atmosphere for visitors to have a perfect experience.
Zermatt- Switzerland
Located at the foot of Matterhorn and built based on exclusivity, Zermatt is the town that is surrounded with expensive shops, luxury hotels and restaurants.
It built its reputation among advanced and intermediate skiers.
Whistler-Canada
Whistler is truly one of the highly rated ski resorts in the northern part of America. It is also an excellent location for winter sports. Its eight-thousand one hundred acres of skiing makes it one of the excellent ski resorts to find around the world. Its atmosphere is incomparable to other ski resorts!
After knowing these top resorts for skiing, you are free to pick the best one. Like others, expect that you will enjoy your getaway experience along with your families and friends!