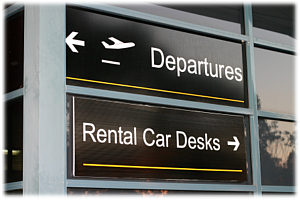 Thousands of British tourists are being routinely ripped off by car-hire companies abroad, a report claims today.
Three-quarters of holidaymakers  surveyed had been hit with hidden or surprise charges by the firms, a  consumer watchdog found.
The problem is particularly rife in Spain – which is by far the most popular destination for British tourists.
Consumer group Which? found many families had been hit with extra, non-refundable charges that were either unclear at the time of booking or buried in small print.
And those under fire are not just local hire firms, with even tourists who have booked cars through well-known international companies having problems.
Of particular concern was a controversial 'full-empty' fuel policy, which means many people are forced to pay for a full tank of petrol – often at an extortionate rate – on collecting the car, but then are not offered a refund for returning it with unused fuel. Which? said it found anecdotal evidence of this fuel scam happening across Europe, particularly in Spain and Greece, as well as in the USA.
The watchdog questioned 2,246 holidaymakers, and found three-quarters of those who experienced this treatment thought they had been forced to pay a fuel price that was higher than at local garages.

And six out of ten people who booked a car with a full-empty policy claimed it was the only option.
This is despite the fact many tourists said they had little chance of using a full tank during their stay, especially those visiting small Spanish islands such as Majorca.
Watchdogs estimated that a tourist hiring a small Fiat 500 super-mini would have to drive the 80-mile round trip from Palma Airport to Puerto de Pollenca – which is on the far side of Majorca – nearly seven times in order to use all the fuel they were forced to buy.
International car-hire company Budget operates a full-empty policy for rentals in Spain, saying on its website that drivers must pay for a 'mandatory' full tank, even if they don't intend to use it.
It adds: 'When you pick up your rental car it comes with a full tank. If you keep the car for four days onwards the prepaid fuel tank policy is mandatory.
'The charge will be according with the fuel tank size of the car rented, and the range of the charge will be between €60 and €130.' A Which? spokesman said: 'We are concentrating on Spain as we know it is a particular problem there.
'Members have reported "full-empty" policies around the world from New York to New Zealand. But the majority of complaints about it centred on Spain.'
Penelope Hewitt, a 30-year-old lawyer from South London, hired a car for a two-week holiday in Majorca with her fiance in September. She said: 'We were mugged. The car-hire queue was so long that we had to wait 90 minutes to be served after getting off the plane.
'They held us to ransom over the fuel, charging us €150 for €60 worth of fuel from the petrol station. The car was an old Skoda when they promised us a Ford Mondeo, and we drove all over the island and still had a quarter of a tank left when we handed it in.'
The Organisation of Consumers and Users (OCU), a Spanish consumer watchdog similar to Which?, said unlawful practices by car-hire companies were damaging the country's image.
Which? found that some international car-hire companies did offer a 'fair' fuel policy, such as Alamo, Enterprise and Autoreisen.
The watchdog's executive director Richard Lloyd said: 'There can be few things guaranteed to ruin your holiday quicker than finding surprise charges and fuel costs unfairly added to your car-hire bill.
'We want an end to this holiday rip-off, with car-hire companies totally up-front about all charges, so holidaymakers know exactly what they will pay when they book.'
Ileana Izverniceanu, a spokesman for the OCU, said: 'We hope that Spanish authorities investigate and punish all rental car companies which engage in unlawful practices.'
Gerry Keaney, chief executive of the BVRLA  trade body which represents the vehicle rental and leasing sector said: 'Any mandatory full-empty fuel policy should be clearly signposted to the customer when booking and we would advise renters to choose a different hire company if they are not happy with this. We require all our members to be transparent and open about any additional charges.'
Read more: http://www.dailymail.co.uk/news/article-2657444/British-toursts-taken-ride-holiday-car-hire-artists.html#ixzz34nzAtbJm

If you want to ensure a smooth transaction when selling your timeshare use accredited resale companies only like Travel and Leisure