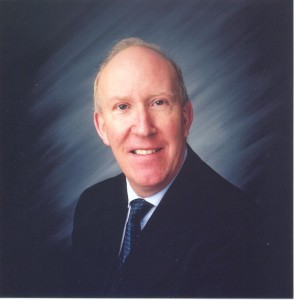 Plans by the timeshare industry to launch a memorial to the late Ron Haylock, one of its most influential figures and leading lights, received a boost this week with the announcement of a matching fund for the next stage of the appeal.
A memorial fund has been set up to create the 'Ron Haylock Music Room', which will be located at the Christel House School in South Africa, and thus linking two of his passions – music and the charity set up by his friend and RCI founder Christel DeHaan.
The fund will pay for the music room and the purchase of more instruments and additional music teaching and tutoring, and organisers are hoping Ron's friends and former colleagues around the world will be prepared to make a contribution.
Brian McCarthy, one of the organisers explained: "May 8th marked the first anniversary of Ron's passing.  We've had a wonderful response to the appeal launched in his memory and you may have donated already for which we thank you most sincerely.
"A small group of his professional colleagues have got together to create a "matching" fund for the next stage of the Appeal.  All donations received between now and 27th June will be matched by this group, up to a value of £10,000.
"In remembering him, please feel encouraged to give just a few pounds; even a small gift will now be doubled instantly and will impact Ron's legacy of access to music for these children that he cared about so deeply."
The Music Room in the School in Cape Town will have a plaque on the wall – it will simply list alphabetically all the names of all these friends from around the world, whatever the amount they felt able to give, large or small.
To donate in any currency, please go to https://www.justgiving.com/RonHaylockMusicRoom
Vivienne Noyes-Thomas, development director of Christel House Europe, said: "Ron Haylock was a special friend to many of us and the months since his passing have given us time to reflect on the man we knew – a man of such varied interests and experience. His enthusiasms in life included his alma mater the University of Nottingham, flora and fauna, trees and woodland, fine wines, fine dining and of course business in all its forms, including his work with RCI, ARDA, RDO and TATOC.
"But perhaps in the final analysis, the greatest of his many passions were for South Africa, for the work of Christel House and for music. We've been thinking of ways of creating a fitting and lasting memorial to this multi-faceted man, and we believe we've found a way to honour his memory and commemorate those three overriding enthusiasms."
Noyes-Thomas said Ron had always encouraged students at the Cape Town school to explore and make the most of their opportunities to learn music, and to find new ways to develop and express themselves that complemented their academic achievements.
A music room bearing Ron's name will create a lasting tribute and "ensure generations of students, teachers and visitors will all be able to wonder at the legacy of a man who had so many friends and opened so many doors for young people during his lifetime", she said.
"Ron was the epitome of 'inclusive' – he sought to introduce, develop and mentor so many people from different walks of life. With this memorial we seek to replicate his inclusiveness, and it will be a tribute from all his friends in equal measure."
More information – http://www.tatoc.co.uk/component/content/article/38-front-page-news/487-memorial-fund-receives-financial-boost