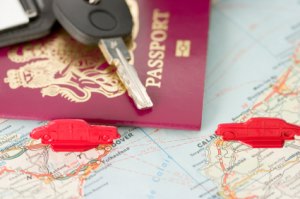 You've just landed at Malaga airport, you've hired the rental car and you're heading to your timeshare resort for a much-needed week in the warm Spanish sun.
But hang on…which way should you go around that first roundabout?
In a recent poll, a quarter of British holidaymakers admitted they would:
a) prefer their partner to drive abroad; and that
(b) foreign road signs and roundabouts were what primarily make them nervous.
Now the UK's first left-hand driving school has launched in Brixton, London, which includes practice with foreign road signs and roundabouts to help boost Britons' confidence on Spanish motorways and Greek mountain roads.
And best of all, the course is free.  Skyscanner has teamed up with driving instructors to offer the course to people who feel particularly nervous about leaving the left side of the road and driving on the right – not least on busy stretches of road like the Malaga to Marbella coastal road, notoriously one of the most dangerous in Spain.
The survey of 1,084 adults revealed that 36 per cent admit they don't research driving laws before driving abroad and 24 per cent would rather leave the holiday driving to their partner.
Skyscanner's Mary Porter said: 'With two-thirds of the world's countries driving on the right-hand side of the road we wanted to give British holidaymakers the confidence they need to drive overseas.
Rules and regulations vary from country to country so we've also published a guide to provide some clarity for drivers including top tips on driving on the opposite side of the road.
Apparently the top five "fears" are:
1.     Not understanding or recognising road signs
2.     Getting lost
3.     Being unsure of which way to go round a roundabout
4.     Trying to navigate while concentrating on the driving
5.     Driving on the other side of the road
If you fancy signing up, you'd better be quick! Classes start on 12 July and are subject to space available.
Drivers will learn the national speed limits for UK's most popular holiday destinations and also get familiar with a list of unusual road signs they may come across.
There are also top tips on how to drive on the right as well as a list of some of the more unusual driving laws from across the globe.
Classes will run on Saturday, July 12 in Brixton, London and are subject to availability.
To sign up, or find out more, visit the Skyscanner website www.skyscanner.net.