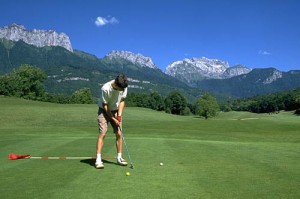 Do you want to get enough time playing your favourite activity? If that activity is golfing, it would do you well to choose from this list of top timeshare resorts for golf in France for a fully satisfying and rejuvenating vacation.
Maeva Inter Residences Tignes
The Maeva Inter Residences Tignes is situated 2000 meters high in the Tignes. It is only 200 meters away from the ski resort, which makes it a nice place for family vacation. But it is not only known for the ski resort since there is also a number of golf clubs in the area. Hence, it is a perfect destination for those who have teens. If you do not prefer to ski, you have the option of going to one of the nearby golf clubs. Some good examples are Golf du Lac de Tignes featuring 18 holes which is only 0.1 kilometers from the resort and the Golf Club de Meribel. The latter is also featuring 18 holes and can be reached after traveling 25.6 kilometers.
Club Le Bristol
It is the kind of vacation resort that shows a combination of classic elegance with cutting-edge features. The resort is known for its exemplary service leaving you nothing to worry about when staying there. Such exemplary service includes providing visitors with lots of possible things to do and activities to participate in, one that individuals cannot enjoy when they are in the busy world. Among the amenities it features is the mini golf course that allows you to use and practice your golfing skill at your own pace without having to impress anyone.
Residence Vaugrenier
It is situated in the south part of France featuring a clear view of the stunning Mediterranean. The apartments at the resort are laid out in nicely landscaped gardens. The inside of the resort offers the serenity you have not had for some time. But the outside is filled with lots of activities to do. Golfers at heart will have a chance to play with the benefit of reaching the golf site by only driving a 10-kilometer distance.
Marriotts Village dlle-de-France
The Marriott's Village dile de France is conveniently located just beyond the famous Disneyland Paris, making it a great vacation site option for those bringing kids with them. And for the adults, you can also have the luxury of enjoying yourself. That can be through doing some laps in the indoor and outdoor pool or simply getting yourself in the greens of the golf course. You do not have to drive far away to be able to play the sport since the sport is already overlooking the Golf Disneyland featuring 27 holes. You will just be left to enjoy the challenges featured in the golf courses.
Maeva Clubhotel Courchevel
Maeva Clubhotel Courchevel resort is finely situated complete with a clear view of the Mon Jovet. The resort offers everything you will want to enjoy during your entire stay, including all interesting activities you like most. Among these is enjoying a leisure walk at Parc de la Vanoise or just challenging yourself to trek on it. Most important of all, you are given the access to use the golf amenities at the resort. If you want to practice your skill in a more public area, there is a nearby golf course with 18 holes you can go to.
With the top options already provided to you, you are now only left with one thing to do. That would be to choose from the list, so you can start planning your highly wanted vacation.